UniFlat® Flatness Measuring Rolls
Essential technology component for strip flatness control in connection with Achenbach OPTIROLL® Automation System.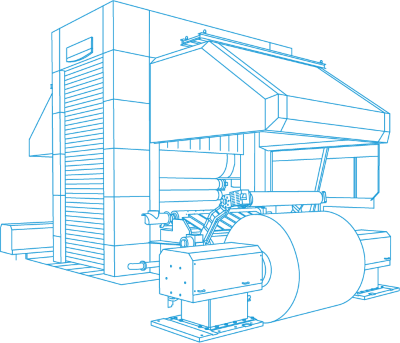 A holistic approach.
The Achenbach OPTIROLL® Flatness Measuring Roll is part of the systematically in-house developed integrated automation system. The outstanding market success of this flatness measuring roll is substantially owed to its high-precise measuring technology with at the same time robust design. The flatness measurement with UniFlat Flatness Measuring Roll has proven to be successful in aluminium, copper, steel, and stainless steel rolling at strip temperatures of up to 300°C.
From thinnest foils with smallest measuring values up to thick strips with high tensile stress this technology is applicable.
High-sensitive and massive flatness measuring rolls with radial bores for sensor installation
Closed surface flatness measuring rolls with axial bores for sensor installation
Low inertia rolls
The Flatness Measuring Roll is an essential essensior to the integrated Optiroll Automation System for MillGauge Strip Thickness Control and MillFlat Strip Flatness Control. The result of the measurement is the tensile stress distribution over the entire strip width. These measuring values are the basis for the flatness control loop which adjusts the customer- and product-specific strip flatness via the installed actuators.
With its electric and mechanical components, the UniFlat Flatness Measuring Roll is desigd for speed ranges from 0 to 4,000 rotations per minute.
Summarizing, all UniFlat Flatness Measuring Rolls are featured by maximum operational safety and high availability.
Massive roll body
Surface of the roll body is ideally adapted to the rolled materials
Maximum operational safety and high availability
Piezoelectric measuring transducers with highest signal resolution
Sensor distribution optimized to the rolled product with range
High transmission security of all measuring values by non-contact signal transfer
Integrated temperature measuring as an option
Contact us directly. Our team is available for you.
To move forward in a modern economy, we need to step up the speed together.